Today is my older sister's birthday! She is 5 years older than me, but would kill me if I put her age on my blog! She is my only biological sister and has always been there for me and is like my second mom.

When Emily was 8 and I was 3 our parents got a divorce and ever since that fateful day Emily has been my rock, my mentor, my best friend. I don't know what I would do without her. She is someone I can always go to for advice, she keeps me grounded and she always shares in my joys and my challenges.

On her special day I only found it fitting to dedicate this post to her and the wonderful person she is! She has two wonderful kiddos and one on the way! I feel so blessed that we will live no more than 10 minutes away from her and her family in upcoming years.

Emily and I have struggled with our parents divorce for many years and although we may be angry, hurt or confused, the one thing that we have always counted on is each other! Cheers to my ownderful sister and here's to her having a great and wonderful birthday!
The three sisters! Emily is on the right end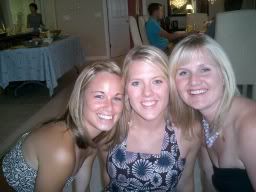 My mom, sister and I...Do we all look alike?
Having fun shopping the day before my wedding
She and her husband Mark
All the girls!
The most adorable kiddos and our niece & nephew, Noah & Estella
Having fun with Brendan at our rehearsal dinner
Cheers to you today Em!!! XXOO love you tons!