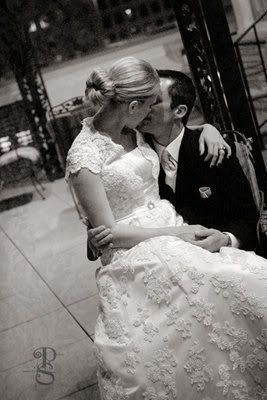 I am stealing this idea from my friend
Bryn
and her wedding week. We were married about a year apart to the day and since I am overly obsessed with wedding, this gave me another excuse to fuel my obsession!
First, I have to say that planning our wedding was one the best experiences I EVER had! I loved every minute if! After planning friend's weddings, I thought I would be bored with my own, but nope not the case! Brendan and I were married in Des Moines, Iowa on Saturday September 30th 2006. It was a beautiful day out and the most perfect day of my life!
When we were first engaged we decided on a fall wedding. I opted out of the traditional fall decor and went for a chocolate brown & pink color palette with green and champagne to accent.
At the beginning of the year I went dress shopping with my trusty stylists, aka my older sister and my mom. We went to the first store and I wanted a very plain, ivory or champagne gown, nothing on it and then accenting with a brown sash....I didn't even get that far. My mom and sis had chosen some gowns for me to try and I simply fell in love! This was the third dress I tried on and I never tried another one after it! It was completely opposite of what I wanted, it was still chic, elegant and classic! Here is the one I ended up with!
The front looked at though I had a strapless champagne gown with a lace overlay that had cap sleeves. It was brought together with an ivory ribbon belt and clasped with an antique brooch. I wore a simple single pearl long necklace and pearl studded earrings. I actually already had these as a gift from my grandmother. My grandfather gave them to her on their 30th wedding anniversary in 1976. I was so happy that they went perfectly. I then topped it all off with my older sister's veil for the ceremony.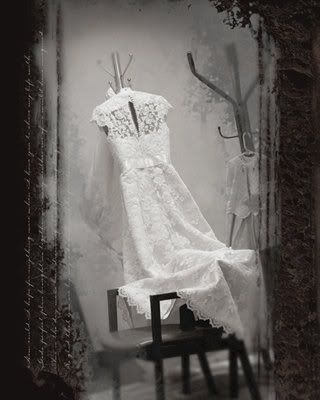 The back detail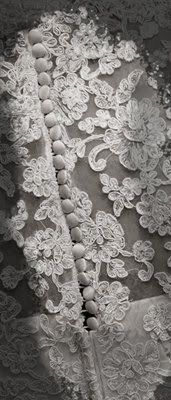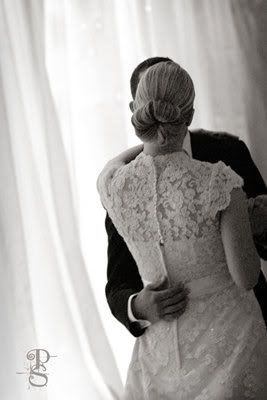 A little bit better view of the front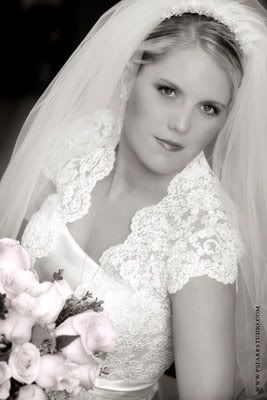 Trying to find a good shot of the front....no having much luck, but you get the idea
Let me just say that I was so happy that I went with the dress I did! It was everything I could have imagined and more! It was different, chic yet still classic! Totally me!!
Stayed tuned tomorrow will be all things flowers and details! Thanks for the great idea Bryn!